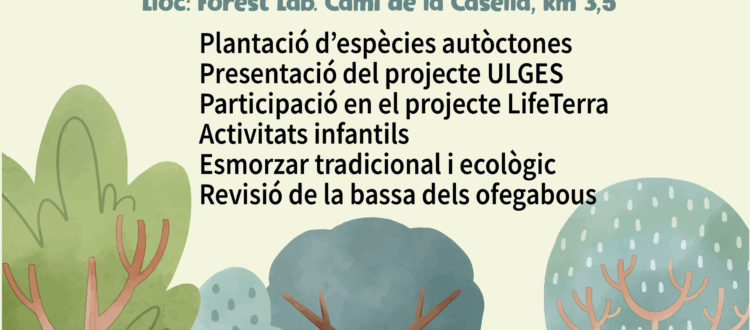 WE CELEBRATE TREE DAY WITH A VISIT TO THE ALZIRA FOREST LAB
We have a very interesting proposal for the 2nd of April: a visit to the FUNDEM La Casella site in Alzira.
Interpreta Natura, custodians of the land of La Casella in Alzira, invite us to celebrate Arbor Day in the Forest Lab. A day that they prepare with great affection and in which we will be able to see all the work that they have been developing on the FUNDEM land during the last few years.
It will be a full morning, where we will be able to participate in the planting of native species, as well as in the Life Terra project and we will be able to learn first-hand about the ULGES Project. There will be children's activities and a traditional "picaeta" for everyone.
We will meet at the Federico García Sanchís School (Avda. José Gregori Furió, 1, Alzira) at 9.15 a.m. to walk or cycle to the Forest Lab (3.5 kilometres). There we will carry out the activities to return to the starting point around 1pm.
Come and spend a morning in nature visiting one of the FUNDEM sites and learning about the work of Interpreta Natura. The activity is completely free, you only have to register by the usual methods: fundem@fundem.org or by whatsapp at 696 975 290. Registration open until 30/3/23.